If you would like to discuss your project and how I may be able to assist you, you are welcome to call me on my mobile 0401 021 210, or email using the form below and I will get back to you quickly.
If you already have a vision for your home, I can help you clarify your ideas and style, and produce a design and drawings which will bring your vision to life.
If you need more guidance on the interior design, I can sit down with you to discuss your needs, and provide you with some ideas and a design that will be perfect for you, in a collaborative process.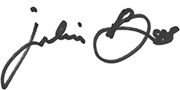 Julie Boss